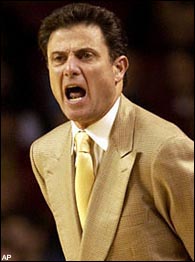 Former NY Knicks & the University of Louisville men's basketball team head coach Rick Pitino is being
sued
for
rape
!
But the story goes deeper then that.
Karen Cunagin Sypher, the wife of the Louisville team's
equipment
manager, is suing Pitino for reportedly raping her at Louisville's popular Porcini restaurant after closing hours and then again a few weeks later at
another
location.
She pressed charges on July 9, two months
after
a federal grand jury
indicted
her on charges of
conspiring to extort
$10 million from Pitino, who is married, in exchange for her silence. She has pleaded not guilty.
Pitino admitted to having sex with Sypher but says it was
consensual
& even admitted to paying $3,000 for an
abortion
on top of that!!
One investigator said Sypher failed to mention that Pitino's executive assistant Vinnie Tatum was at Porcini when she said the first rape occurred.
Tatum told the FBI that he hadn't seen what happened but heard "only the sounds of two people that seemed to be enjoying themselves during a sexual encounter," according to a police report.

Records also indicate Pitino was in California when Sypher claimed he sexually assaulted her a second time.

Prosecutors who have reviewed Sypher's claims say Pitino won't be charged due to discprencies in her story.