Let the backlash begin!





Days after Kanye's VMA bombardment, many people have had plenty of things to say about his "
drunken
" speech (he was reportedly carrying around a half bottle of Hennessy & swiggin it on the red carpet & inside) in the middle of Taylor Swift winning her award. Here are some comments made about the incident from various
celebs
:
We already know Pink's
hate
for Kanye first
started
when it came to that PETA issue, but now it's
burned
deeper!
Meanwhile, 50 Cent said he would've gave 'Ye a
black eye
!:
Even our beloved President Obama had
words
about the VMA disaster:
Hilarious!! However, people are looking heavily into this
leaked
audio because it was suppose to be
off the record
. If you've ever taken journalism class or know anything about it, once someone says it's off the record, you
cannot
use it! I believe it's a written rule. . . this person's in trouble!!
In the end, Kanye West
apologized
on The Jay Leno Show & even talked about wanting to go away for a while:
And that he did. He reportedly
called
Taylor up & apologized and she's
accepted
it .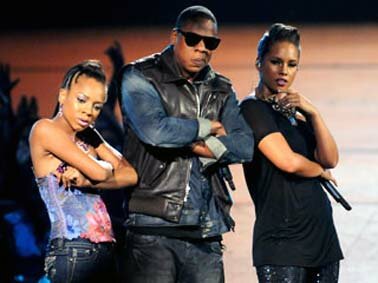 And who could forget this
humiliating
moment for Lil Mama! I'm still too embarrassed to watch the performance again!!
Well Ms. Alicia Keys stopped by The Today Show & pretty much
sonned
Lil Mama:
LOL! She looks hot by the way! Lovin the weave!!!
Can the case
now
be closed on this Kanye West thing? It's becoming a little much. . . . now we can start up with Lil Mama.