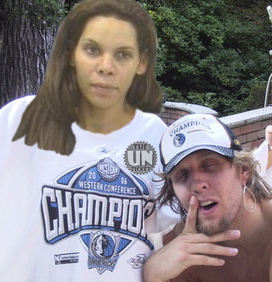 Remember that crazy story in May about Dallas Maverick's Dirk Nowitski's
former
girlfriend who was on the
run
from the law, stole credit cards and money, changed her
identity
5 times, Cristal Taylor???
Taylor was sentenced to
five years
behind bars yesterday for breaking her probation, despite writing to the judge begging for leniency. She claims that she had
changed
and her love for the Nowitski was
real
!
Nowitzki has also spoken of his love for Taylor in the past, but the love is now
gone
. The power forward has canceled his credit cards and changed his telephone number and e-mail address. He has broken off
all contact
with Taylor, who is rumored to be pregnant with his child.
Dirk only found out the truth about his former lover's shady past after she was arrested in May!
LMAO at the pic.
Anyhoo, Michael Vick has just been released from jail and is in dire need of the public's
acceptance
but his
actions
yesterday are having people call his
integrity
into question again.
"Michael, you
can't
do that." Vick's mentor Indianapolis Colts Coach Tony Dungy told him after Vick was spotted by the
New York Post
drinking a Grey Goose/Pineapple Juice to get him loose at a hotel bar in Philly.
Vick drinking doesn't violate the terms upon his reinstatement into the league but people are saying he needs to remain a
saint
while in the public eye until all is
clear
. Even if that means cooling on his partying ways.
What do you think?
And I broke the news on my show "On The Corner" last year about a
documentary
one of my heroes Lebron James was filming called
More Then A Game
. Well here's the trailer:
It's gonna be
amazing
!
And I hear the soundtrack to the flick is made up of an elite group. Mary J. Blige & Chris Brown have a record out on the radio called
Stronge
r which is on the soundtrack & word has it that
this
Friday,
another
song from the soundtrack is going to premiere worldwide & it'll be featuring Kanye West, Eminem, Common & a slew of the top dawgz.
Only King James can have this kind of backing! Next to Hova of course but it's practically the same thing.