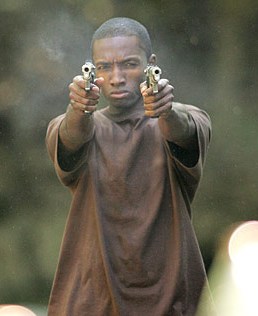 Jamie Hector who played druglord Marlo Stanfield on the hit show
The Wire
saw his character's life turn into
reality
in Brooklyn yesterday!

And more

appropriately

, the incident occurred at his wife's baby shower!




At a

baby shower

?!?!!
According to the NY Daily News a made-for-tv gun battle erupted outside a Brooklyn baby shower for the wife of a star of the HBO crime series "The Wire" yesterday, killing one teen and wounding two men, cops said.
Gunmen unloaded nearly 50 bullets outside the party near Avenue B and the 90's & then tried to finish off one of the wounded men outside a hospital!

"What a gun battle," a police source told the NY Daily News. "They have been watching too much TV."
DamnNnnnnNnnn! The shooters tried to merk the guy as he was being carried into the hospital?!??!? I don't think even Marlo could've handled this situation
.
Man,
only
in the
Brookna
.