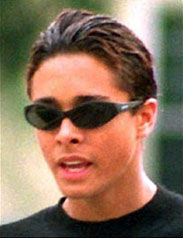 Jordan Chandler, the 13 year old boy who
accused
Michael Jackson
first
in 1993 of child molestation, which
ignited
this torture and media scrutiny for the singer has finally told the truth.
Michael Jackson did not molest him.
After the sudden death Jordan Chandler tells the truth.
Now maybe for the remorse of his death Chandler decides to tell us the truth. " I never meant to lie and destroy Michael Jackson but my father made me to tell only lies. Now i can't tell Michael how much i'm sorry and if he will forgive me ".
Under the influence of a controversial father (Evan Chandler) told his son to tell that Jackson had touched his penis. Jordan Chandler then told a psychiatrist and later police that he and Jackson had engaged in acts of kissing, masturbation and oral sex, as well as giving a detailed description of what he alleged were the singer's genitals.

" Now for the first time i can't bear to lie anymore. Michael Jackson didn't do anything to me, all was my father lies to escape from being poor."
IF
THIS IS TRUE,
BURN IN HELL
YOU PIECE OF SHIT. YOU ARE WORST THEN SHIT. YOU ARE THE SCUM OF THE EARTH IN WHICH WE ALL KICK AND STOMP ON AND WHERE RATS EAT AND MAGGOTS FEAST FROM. YOU SHOULD BE
ERASED FROM ALL OF HUMANITY
.
Here's an
article
to those who aren't familiar with the story. The
evidence
was abundantly
clear
, but because we
live
in America, the country where we like to build people up, only to break them down and tear them apart when they're at the top, all the circumstantial evidence was not taken into consideration.
IF YOU'RE A TRUE FAN OF MJ'S, PLEASE TAKE THE TIME TO READ THIS TO FAMILIARIZE YOURSELF WITH THE STORY.
Jackson gave a 90-minute interview with Oprah in February 1993, his first television interview since 1979. He grimaced when speaking of his childhood abuse at the hands of his father; he believed he had missed out on much of his childhood years, admitting that he often cried from loneliness. He denied previous tabloid rumors that he bought the bones of the Elephant Man or slept in a hypebaric oxygen chamber. The entertainer went on to dispel suggestions that he bleached his skin, stating for the first time that he had vitiligo.

The interview was watched by 90 million Americans, becoming the fourth most-viewed non-sport program in U.S. history. It also started a public debate on the topic of vitiligo, a relatively unknown condition before then. Dangerous re-entered the album chart top 10, more than a year after its original release
Jackson was accused of child sexual abuse of a 13-year-old child named Jordan Chandler and his father Evan Chandler (a dentist). The friendship between Jackson and Evan Chandler broke down. Sometime afterwards, Evan Chandler was tape-recorded saying amongst other things, "If I go through with this, I win big-time. There's no way I lose. I will get everything I want and they will be destroyed forever...Michael's career will be over".
A year after they had met, under the influence of sodium amytal, a controversial sedative that may doctors testifed in saying they do not use the sedative. Anyone under the sodium amytal can be easily swayed and this is in no way a truth serum. Jordan Chandler told his father that Jackson had touched his penis Evan Chandler and Jackson, represented by their legal teams, then engaged in unsuccessful negotiations to resolve the issue in a financial settlement; the negotiations were initiated by Chandler but Jackson did make several counter offers. Jordan Chandler then told a psychiatrist and later police that he and Jackson had engaged in acts of kissing, masturbation and oral sex as well as giving a detailed description of what he alleged were the singer's genitals.
An official investigation began, with Jordan Chandler's mother adamant that there was no wrongdoing on Jackson's part. Neverland Ranch was searched; 30 children (who've spent time at the ranch) spoke up and family members denied that he was a pedophile.
Jackson's image took a further turn for the worse when his older sister Latoya Jackson accused him of being a pedophile. At the time, she told tabloid's that checks were made out to several boys and that she had evidence of sexual abuse on Michael's end but is willing to speak only for she was paid $500,000 for the story. She was disowned by her whole family and she later retracted the statement, claiming that her husband at the time forced her to tell lies in exchange for money.

Jackson agreed to a 25-minute strip search conducted at his ranch. The search was required to see if a description provided by Jordan Chandler was accurate. Doctors concluded that there were some strong similarities, but it was not a definitive match. Jackson made an emotional public statement on the events; he proclaimed his innocence, criticized what he perceived as biased media coverage and told of his strip search.
Jackson began taking painkillers, Valium, Xanax and Ativan to deal with the stress of the allegations made against him. By the fall of 1993, Jackson was addicted to the drugs. His health deteriorated to the extent that he canceled the remainder of the Dangerous World Tour and went into drug rehabilitation for a few months.

The stress of the allegations also caused Jackson to stop eating, and he lost a significant amount of weight. With his health in decline, Jackson's friends and legal advisers took over his defense and finances; they called on him to settle the allegations out of court, believing that he could not endure a lengthy trial.
Tabloid reaction to the allegations put Jackson in an unfavorable light. On January 1, 1994, Jackson settled with the Chandler family and their legal team out of court, in a civil lawsuit for $22 million. After the settlement Jordan Chandler refused to continue with police regarding criminal proceedings. Jackson was never charged, and the state closed its criminal investigation, citing lack of evidence.
THIS IS THE TALENT, THE HERO, THE LEGEND, THE ONE WHO'S IN THE GUINNESS BOOK OF WORLD RECORDS FOR BEING THE ONLY POP STAR IN HISTORY TO RAISE THE MOST MONEY (MILLIONS) FOR FAMINE AND CHILDREN ALL ACROSS THE WORLD, . AN ICON WHO WAS LOVED, ADORED AND CHERISHED, THAT WAS DESTROYED. BECAUSE OF THIS HE RESULTED TO SOLITUDE AND PRESCRIPTION DRUGS. WHAT PERSON WITH SUCH A KIND OF HEART, A WARM SOUL, TO OPEN UP HIS HOME TO SICK CHILDREN, TO DEDICATE HIS MONEY AND TIME AND MUSIC TO THE HUNGRY AND ILL CHILDREN ALL AROUND THE WORLD COULD ENDURE THE KIND OF SCRUTINY AND RIDICULE YOU PLACED ON HIM?????!!! BLOOD MONEY HUNGRY DISGUSTING PEOPLE!! I'LL KICK THEIR ASSES!!!
I never believed the molestation charges. That was the dawn of tabloid magazines. Beginning with The National Equirer. For God's sake those magazines once said Oprah died! But because we're Americans and dumb, we were brainwashed by their assurance of Michael being a pedophile. I could only imagine the toll it took on MJ's life and health when the 2nd round of extortion came a couple years ago.
Things could've been so so different. So different. . . =***((((((
In Billy Mays news, an
autopsy
was conducted and doctors concluded that he likely died of a
heart attack
in his sleep, but further tests are needed to be sure of the cause of death, a medical examiner said Monday, despite rumors that claims he died of a
concussion
when he bumped his head on an object on the Tampa airplane that blew out its front tires on the landing strip the day before and didn't go to the hospital.
Hillsborough County Medical Examiner Vernard Adams said Mays suffered from hypertensive heart disease, and the wall of the left ventricle of Mays' heart and the wall of one of his arteries were enlarged.

"The heart disease is perfectly consistent with sudden death," Adams said.
An official cause of death will be issued after toxicology and other tests are completed in eight to 10 weeks.
Adams said Mays was taking the prescription painkillers Tramadol and hydrocodone for hip pain, but there was no indication of drug abuse.
I am soooo spent and wiped. I'm learning about new pills every damn day with these stories.