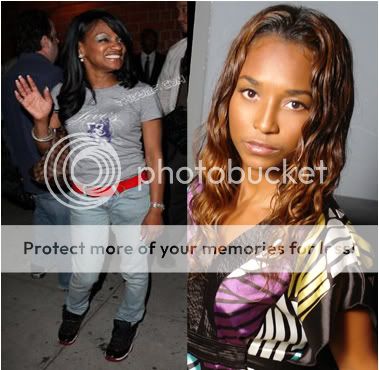 Sources are saying that Keyshia Cole's hot mess, former crackhead of a mother had a
confrontation
with TLC's Chilli at a party in Atlanta over this weekend.
Supposedly Chilli was having an interview with someone while at the club and Frankie came running over & gave Chilli a huge hug.
Chilli didn't hug Frankie back since she was in the
middle
of an
interview
& she didn't expect the massively
drunk
ghetto identity confused woman to bumrush her!
After the interview, Chilli went to chat up Yung Joc & that's when all hell broke loose.
Frankie tried to grab Chilli with tons of people holding her back while she
screamed
with her stinky alcohol breathe, "You think you're better then me, you think you're better then me. My daughter's better then you!". In the midst of all this, Chilli remained calm asking herself and others, "Are you serious right now?"
Apparently Frankie got upset that Chilli didn't make a big deal upon seeing her & was pushed over the edge when after the interview was done, she
still
didn't
acknowledge
Frankie.
Girl
please
! Does Keyshia condone this type of behavior?!
Word has it also that Frankie's
fiance
(who
could
be her son) Lamon, got a tattoo of her name on his arm.
Barfing now.