The buzz about Dr. Conrad Murray being one of the
key
people being
investigated
in Michael Jackson's death are endless and the super fishy doctor, who
didn't
release
all
his medical records concerning MJ to the police has just received a rude awakening!
8 DEA vehicles
with 2 LAPD detectives, uniformed members of the Houston Police Department and 10 members of the DEA's Tactical Diversion Team; alongside 12 DEA agents arrived about
30 minutes
ago at the Houston Office of Dr. Murray with a
search warrant
& the location is currently being
raided
by the the federal authorities! They're searching for
all records
pertaining to Michael Jackson!!
Joe Jackson mentioned in the Larry King interview that the doctor went missing for
3 days
right after the death happened!!!
This is all adding up!! The toxicology reports will be here next week but the conclusion examiners came up with so far is that Mike was in fact injected with a
high dosage
of Propofol (the
anesthetic
).
You will rest soundly soon Michael!! In lighter news, it turns out MJ was quite an
arteest
. Here's one of his drawings:
Speaking of art, people from all across the globe got many in memorandum
tattoos
for the King of Pop. Check em out. I didn't think a person would
ever
tattoo a picture of a friggan
singer
on their bodies when they've passed away, only Michael Jackson holds that
power
!!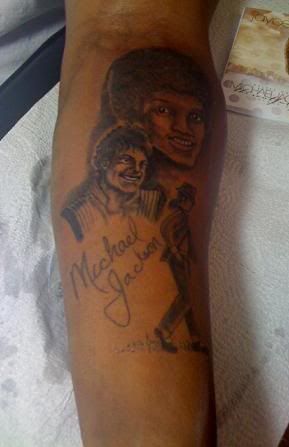 Shit is
real
in the
field
.